Each year the Ontario Soccer Association honours outstanding individuals who have made a significant contribution to soccer.
Also known as the Centre Circle Awards, these awards are The Ontario Soccer Association's highest l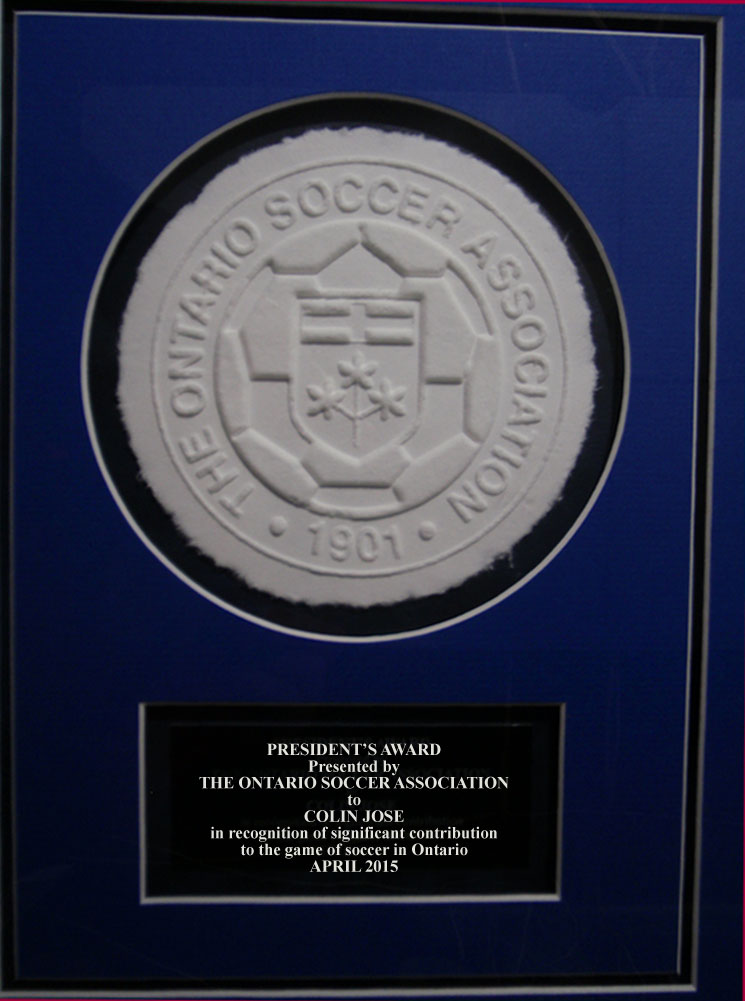 evel of recognition and are presented annually to men, women and organizations nominated on the basis of their outstanding contributions to the development of soccer in Ontario and Canada.
This year, Colin is the recipient of the 2015 President's Award for his lifetime contribution to our knowledge of the history and development of soccer in Canada. This website bears testament to just a fraction of his lifetime's work.
Everyone who knows Colin personally would attest to his kind, thoughtful, unassuming nature. He has always been generous of his time to help other writers and researchers and has aided countless journalists in Print, TV and Radio. He is quite simply "the go to guy" when it comes to soccer history in Canada and the United States.
This generosity of spirit belies a determined, methodical historical researcher and writer who has pursued his work with imagination, determination and many, many thousands of hours tracing historical accounts of the history of Soccer both in Canada as well as the United States.
In receiving the award, Colin has noted the following:
"I have known and worked with 12 different OSA Presidents, starting with the great Arthur Arnold, from my home town of Hamilton, who was President of the CSA (Dominion F.A. and the National Soccer League as well as the OSA), and followed by Terry Kelly, John Barnes, Ian Dickson, Les Digby, Bill Hoyle, Tom Doyle, Ed Grenda, Les Wilkinson, Colin Linford (who presented me with the CSA's Presidents Award in 2007), John Knox and now Ron Smale. What a distinguished group of men. I have also worked with six Executive Secretaries starting with the great Bill Simpson and followed by Job Jones, Clive Wilkinson, Lewis Edwards, Guy Bradbury and Lisa Beatty. I would also like say a special thank you to Robyn McComb, Gerry Jennings and Robyn Gmeindl with whom I have worked for many years with great respect and pleasure. Where would we all be without these very special ladies whose contribution to the operation of the OSA is beyond measure."