Drive east along Gerrard Street in Toronto today, away from downtown, past Pape and towards Coxwell and eventually you will come to the corner of Greenwood Avenue.  Nothing remarkable about it today, a lawyers office, a fruit market, and a Pizza Pizza, not unlike many other intersections in Toronto, nothing to tell you that this was once the site of one of the finest soccer stadiums in North America.  No sign to tell you that this is where Ulster Stadium, built in 1925, once stood. (Picture below from City Archives.)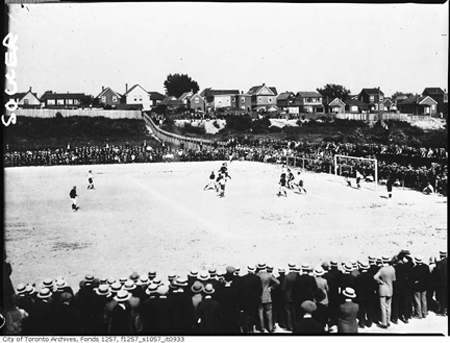 Before World War Two, Ulster Stadium was the home of Ulster United, one of Toronto's most famous sports teams.  The team was founded on Wednesday January 13, 1914, at the Occident Hall on Bathurst Street, by a group of Irishmen, and began play later that year in the Toronto and District League.  The team won the Third Division championship in its first year, then the Second Division the following year, and in 1916 the championship of the Toronto Senior League.

The Red Handers, as they were known, won the Brigden Cup in 1916, 1917 and 1920 and the championship of the Inter Cities league in 1921, 1922 and 1923, and the first of three national championships in 1925.
In 1926, Ulster, along with Montreal Carsteel, were instrumental in forming the National Soccer League, the first professional league of any significance in Canada and won the Atholstan Cup, the championship, five times.   In addition the team won the Ontario Cup three times, the Consols Cup ten times and the International Soccer League in 1926.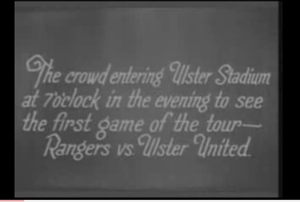 Perhaps it's most famous game was played against Glasgow Rangers in 1930 when thanks to Canadian born goalkeeper Bobby Kirk, it led 3-2 until near the end.  (Click thelink. Watch the game!)
Ulster also played against such famous teams as Sparta Prague, Kilmarnock, Audax Italiano (Chile), Liverpool, Manchester United and Fortuna Dusseldorf.

In winning the championship of the short lived International Soccer League in 1926, and with it he Nathan Straus Cup, Ulster triumphed over three American professional teams, New Bedford Whalers, Brooklyn Wanderers and Boston Wonder Workers, plus three Canadian teams, Montreal Carsteel, Montreal Scottish and Toronto City.

In 1960 two groups claimed to have control of the team and Ulster remained in the National Soccer League until 1961, when it finished last amongst seven teams. However, by 1963 the club had slipped into the Fifth Division of the Toronto and District League.   
When Canada played against the United States in 1925 and 1926 seven Ulster players in total played for Canada in the three games.  They were Fred Dierden, Roy Faulkner, Jimmy Galloway, Fred Williams, Jimmy Moir, Bill Dinnie and George Graham.  Other notable players who wore the famous white shirt with the red hand of Ulster were, Art Halliwell, Whitey McDonald, George Forrest, Dave Turner, Joe Clulow, Bob Lavery, Phil Lavery, Tommy Johnson, Angus Watt, Sammy Grant, Dave Eadie, Harry Gibson, Sam McNabney, Johnny Aiken, Cy Davies, Paul Hric, Archie McDowell, Art Varley, Johnny Aiken, Jackie Rudland, Phil McKay, George Anderson, Jackie Perratt, Tommy Axe, Bill Breadon, Norman Bundy, William Connor, Bill Davison, James Loney, Ken Bundy, Bobby Hume, Johnny Douglas, Hugh Suttie, Jack Long, George Erasmusson, Alex Fraser, Jimmy Hagan, John Mateer, Doug McBride, Harry McQueston, Eddie Porter, Bill Quinn, Walter Rankin, Harold Seymour, George Singleton, Bill Spence, Ollie Sutton, Stan Wadlow plus England international Les Medley and Scottish international Bobby Cox.
Instrumental in the success of Ulster was Bill Pentland, founder of Dominion Stores, and Jimmy Surgeoner, the club secretary.  If teams like Ulster United had survived along with the great teams of the days before World War Two, who knows where Canadian soccer might be today?