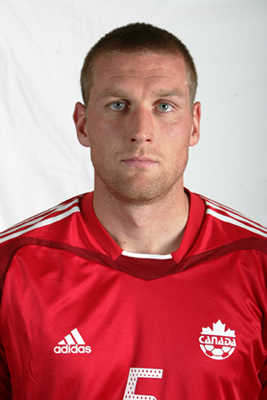 Jason De Vos one of the finest international athletes ever developed on the playing fields of London, Ontario, will be inducted into the London Sports Hall of Fame on November 3, 2011.
Born in London, and raised in the nearby village of Appin, Jason captained Canada's national team to one of its greatest triumphs when it won the CONCACAF Gold Cup, the championship of North and Central America and the Caribbean, in 2000.
He began his senior career as a 15 year old high schooler with the London Lazers in the Canadian Soccer League in 1990, moved on to the Kitchener Spirit of the same league in 1991, then back to London in 1992. But his abilities as a first class defender had already been recognized by the Montreal Impact of the American Professional Soccer League and when the Canadian Soccer League folded at the end of the 1992 season, Jason moved on to Montreal for the 1993 season. Then in 1996 he made the difficult move to England to play for Darlington in the old Third Division.
He was with Darlington for three seasons and played in 44 games and scored five goals. After Darlington he moved to Scotland in 1998, on a 400,000 pound transfer to play for Dundee United one of Scotland's top teams. He was there for three seasons and played in the Scottish Premier League making 93 appearances, scoring twice. He also captained Dundee United a rare honour for a Canadian player.
In 2001 it was back to England with Wigan Athletic, where he played at DW Stadium for three seasons making 90 appearances and scoring 15 goals. Next stop was Ipswich Town, in 2004 and he was in East Anglia for four seasons playing in 171 games and scoring 10 goals. His British appearances total 398 games and 32 goals. He also captained Ipswich Town. The games with Wigan and Ipswich were all played in what used to be known as the Second Division and is now known as the Coca-Cola Football League Championship.
But he made his international reputation with Canada's national teams, playing for his country in fifteen different countries, including Japan, Libya, France, the Czech Republic, both Northern Ireland and the Republic of Ireland, Egypt, Switzerland, Wales, Costa Rica, Mexico, Panama, Trinidad and Tobago and Bermuda.
He played a total of 49 times, often as captain, for the full national team, starting in 48 games. He made his national team debut on August 17, 1997 against Iran in Toronto in an Exhibition game, but later that year played in two World Cup qualifying games against the U.S. in Burnaby and Costa Rica in San Jose.
At the CONCACAF Gold Cup win in 2000 in the United States, Canada surprised everyone by beating Columbia 2-1 in the final at the Los Angeles Coliseum with Jason scoring the first Canadian goal. In winning the Gold Cup Canada qualified for the FIFA Confederations Cup which pits the champions of the six FIFA Confederations against one another. Canada played Japan, Brazil and Cameroon, losing to Japan and Cameroon in Niigata, but holding Brazil to a 0-0 tie in Ibaraki.
It is often said that his determination to represent his country denied him a spot with a team in England's Premier League.
On retiring at the end of the 2007-08 season he turned to television and in 2010 was a familiar face on CBCs World Cup telecasts.